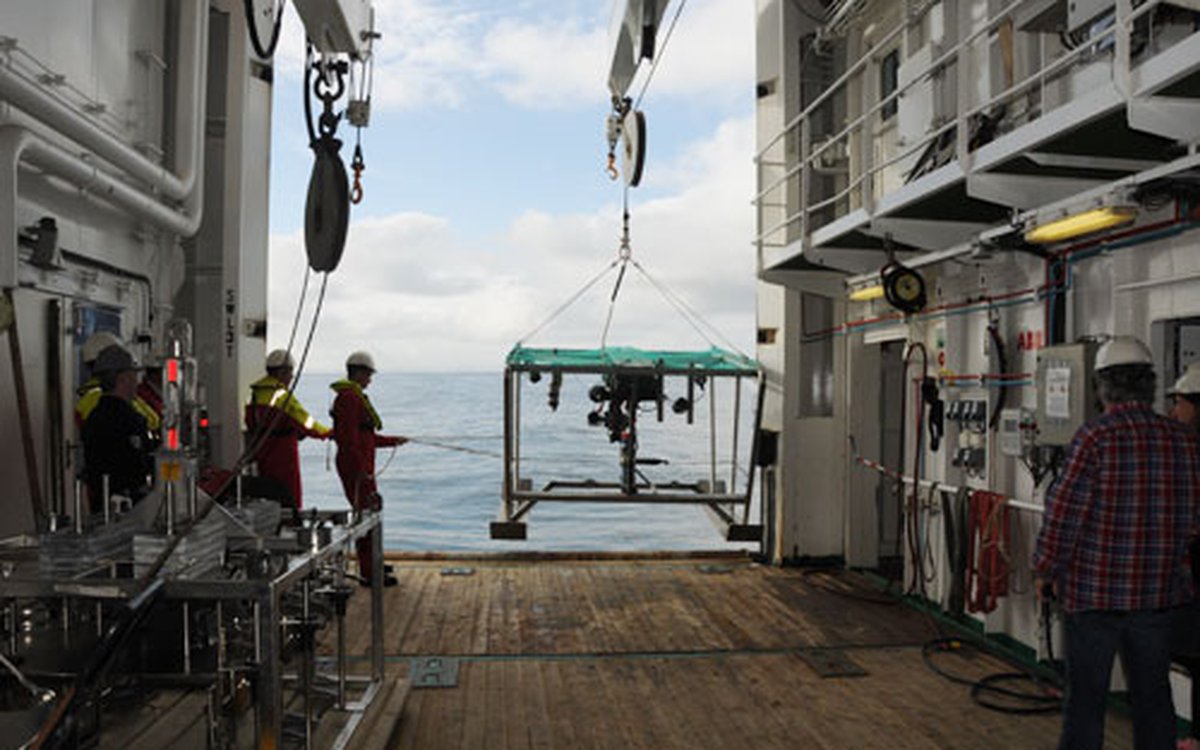 MAREANO expedition ahead of schedule
Author: Beate Hoddevik Sunnset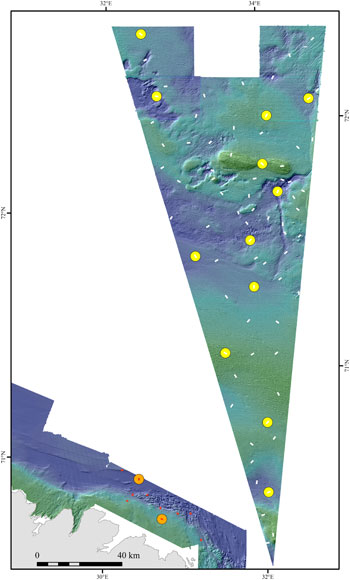 The large triangular area shows the area originally due to be surveyed during this expedition, which has now been fully documented. The white lines represent video transects, which were only surveyed by video, while at the sites marked with yellow dots, seabed samples were also taken. Now the "G.O. Sars" is in the area closer to the coast of the county of Finnmark. The red spots represent video transects, while the orange ones are full sampling stations. The grey area is the northernmost part of Finnmark. (Map: Valerie Bellec)
These sites were supposed to be surveyed in 2011, but had to be postponed due to bad weather.
New video rig
The last days of the expedition will also be used to test a new video rig, or "campod", as we call it. After making the last fine adjustments to the new camera, it produces even better quality results than the old one.
The new rig has one main camera and three auxiliary cameras. The main camera is used to document the fauna and flora on the seabed, while the other cameras are used to help control the video rig. The rig is also equipped with focus lights and lasers that are used to determine the size of the objects being observed.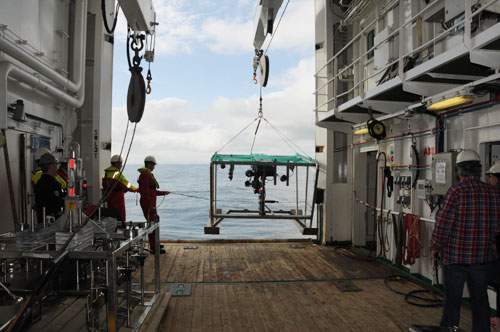 The new video rig is lowered into the sea.
Enthusiasm in the video control room
There is a lot of enthusiasm in the video control room from the moment the video rig hits the bottom until it is raised up again. The Latin names of animals are recited as they appear, and if something isn't immediately recognised, the scientists discuss what it could be. Occasionally the geologist also comments on the sediment type that we are passing through.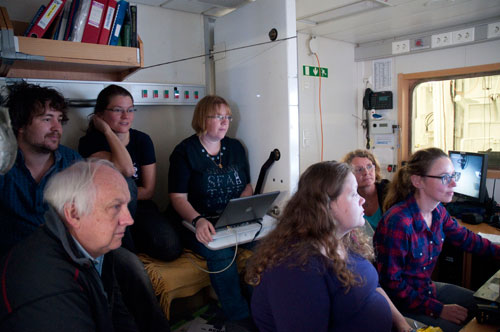 It sometimes gets crowded in the video control room, as everyone wants to see what is appearing on the screens. This picture was taken while the boat was still in the triangular area shown on the map above, which was previously disputed by Norway and Russia. (Photo: Anne Helene Tandberg)
Once the video rig has been lowered to the seabed, the first job of the biologists is to document the area where it has landed. All animals are filmed, and the biologists write down the names of the ones that they recognise. The job of identifying all of the animals continues back on land once the expedition is over. Next the rig is dragged behind the "G.O. Sars" for 700 metres in a previously determined direction. Now the geologists also have more to do, including logging the changing sediment types and the size of stones that can be seen on the screens.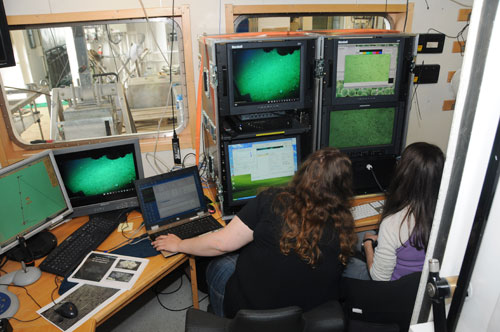 The screens with the various images relayed by the campod. The pictures taken by the main camera are shown on the screen at the bottom right.
The rig is dragged at 0.7 knots, which gives the biologists and geologists just enough time to write down their observations. After 700 metres the rig is parked on the seabed again, and everything around it is documented in the same way as at the start of the transect. All of the videos are subsequently analysed on land.
In a later expedition diary you will be able to read about, and see pictures of, exactly what we encountered on the sea floor in the "Finnmark East" area.
More: